41 Yr. Old Man From Grapevine Gets A Smile Makeover With Dental Implants*
Procedure Details
This 41-year-old male patient from Grapevine waited years to save up the money to properly replace his missing teeth at Bosher Cosmetic and Restorative Dentistry in Plano, Texas. After assessing the condition of his gums and teeth, cosmetic and restorative dentist Dr. Ron Bosher decided to use dental crowns and an implant-retained bridge. Dr. Bosher began by putting the dental implants in the patient's lower jawbone. The dental implants were given time to heal and attach to the jawbone and gums before the implants were covered with optically scannable healing caps. From the digital scan, custom titanium abutments were made with CAD/CAM (computer aided design and manufacturing) to attach the custom crown and bridges to the dental implants. In 3 weeks and 2 appointments, the patient's mouth was restored and the results of his smile makeover were everything he had hoped for. He is glad he chose Dr. Bosher and his staff, who made the entire process easy and enjoyable. He knows his results make his mouth stronger, healthier, and the high-quality dental implants will ensure his results are long-lasting.
More
Scan Technology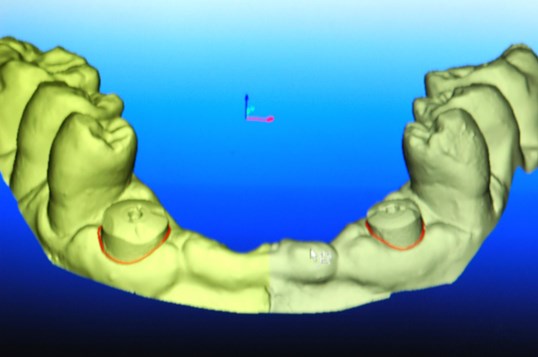 On the left, the implants have been placed and you are seeing the optically scannable healing caps. From this digital optical scan, custom titanium abutments are made by CAD/CAM technology. More
Final bridge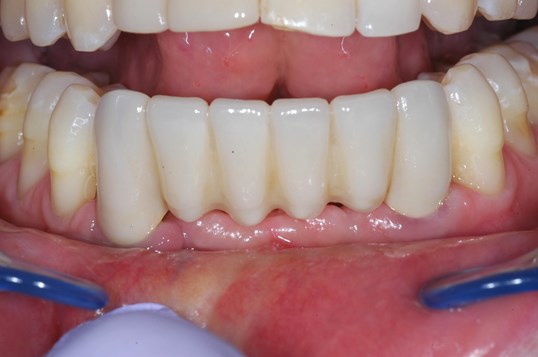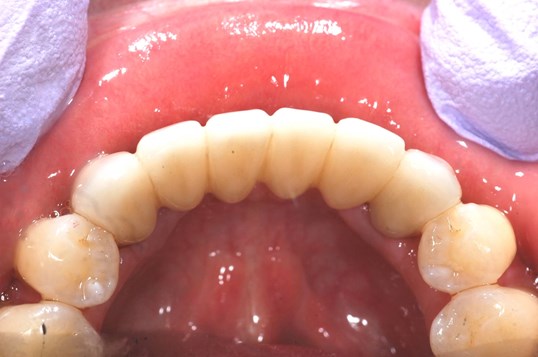 This is the final all ceramic bridge which was accomplished in 3 weeks with only 2 appointments needed. Without the digital scanning and CAD/CAD technology , the process can take 3 appointments and 6 weeks to complete. More
At 41, the patient had saved for years to be able to afford custom dental implants and fixed bridge. He could have opted for removable partial denture, which are less expensive, but at his young age he wanted a solution that wouldn't require special care and last for a long time. The patient stated that he went without a lot of "things" in his life, but he was focused on getting his smile back. To get your smile makeover, schedule a consultation at Bosher Cosmetic and Restorative Dentistry in Plano, Texas and learn about dental implant options.
Location